Application fields
Worldwide textile ID RFID products.
Datamars RFID solutions cover all industrial laundry scenarios, from manual to fully automated handling processes, ranging between different application fields:
Datamars offers RFID solutions for the entire garment production process, from soil-inbound to the expedition area.
Main business sectors include: food processing, trade, services, healthcare.
Datamars has developed new solutions to help better manage linen inventory and control losses.
We have developed specific integrated solutions to read mats in the rolling machines of the industrial laundry, and for bulk reading of mop heads in bags. Resistant to vulcanization, any mat can be purchased already fitted with HF or UHF LaundryChips.
The increase in the number of nursing homes represents a growing potential for industrial launderers.
Accurately identifying and tracking the numerous and various private garments of nursing home residents presents a challenge for nursing homes staff and their laundry partners.
The right technology for each application field
Our Worldwide textile ID RFID products portfolio includes low frequency (LF), high frequency (HF) and ultra high frequency (UHF) RFID systems.
Each technology has different features that suit specific application fields.
A lower frequency has a shorter read range and slower data read rate, while higher frequency generally has faster data transfer rates and longer read ranges.
In the tab below you can find a brief guide in order to understand which technology can suit better your needs:
Product portfolio
Datamars has a profound understanding of the key issues surrounding textile identification. With years of experience, Datamars has designed the most complete portfolio or RFID-based solutions for every application of textile identification.

LaundryChipTM 401
FT-401-ST / FT-401-PA / FT-401-Pouch.
New disruptive UHF generation transponder: the best bulk-reading performance and endurance in the hashest laundry conditions in a reduced form factor!
Discover more!
Available in 3 versions:
Source Tagging
(sewn),
Patchable
and
in Pouch
.

LaundryChipTM 301
FT-301-ST / FT-301-PA / FT-301-Pouch.
The first multi-read UHF LaundryChipTM developed by Datamars for high-volume bulk-read applications: flexible, round module.
Available in 3 versions: Source Tagging, Patchable and in Pouch.

TrolleyChip
T-TC860 / T-TC900.
High-performance RFID transponder for tracking of laundry carts, with rugged design and blue ABS housing for high durability.
Available in 2 versions: ETSI or FCC.
R-UHF-SR420 / SR220 / SR120
UHF Stationary Reader, available with 1, 2 or 4 ports. Readers are also available with a standalone firmware developed specifically by Datamars for the laundry needs:
discover more
.

R-PO-UHF-MER
UHF Handheld Reader, Cross Dipole, WLAN (EU), w/o desktop charger.

R-PO-UHF-BT
Portable UHF reading solution with Bluetooth connectivity (ETSI).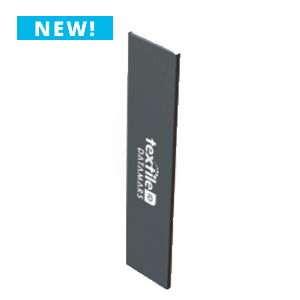 A-UHF-LNG-101
UHF hanging conveyor antenna to precisely identify UHF tagged textiles thanks to an homogenous reading area.

A-UHF-CON-101
UHF Conveyor Antenna, Right-Hand Polarized.

A-UHF-CON-AO-101 / A-UHF-CON-CBO-101
A-UHF-CON-AO-101: UHF Add-On Antenna, shielded vertical Conveyor, (ETSI).
A-UHF-CON-CBO-101: LF-UHF Combo Antenna, shielded vertical Conveyor, (ETSI).

A-UHF-TT-AO-101 / A-UHF-TT-CBO-101
A-UHF-TT-AO-101: UHF Add-On Antenna, TableTop.
A-UHF-TT-CBO-101: LF-UHF Combo Antenna, TableTop.

A-UHF-TT-101
UHF TableTop Antenna.

A-UHF SL 360/700/990
UHF Slim Antenna, available in 3 measures: L 360mm, L 700mm or L 990mm.

S-UHF-PORTAL-PLUS
The UHF Portal Plus has been designed to read carts on the clean side and it can be used in any area were bulk reading is needed without slowing down the textile flow.

S-UHF-TUNNEL-101
The UHF Open Tunnel has been designed to be mounted on any existing laundry conveyor belt and it's the perfect reading system to read clean pack of textiles.

S-UHF-LITECAB-101
Light and dismountable UHF manually operated single door cabinet, suited for space limited applications. Easy & quick to install, Litecab is available in two versions: small and large.
Discover more.

S-UHF-PORTAL-101
UHF Portal Scanning System for standard laundry carts.

S-UHF-CAB-201
4 panels cabin in automatic version for UHF textile trolley scanning.

SW-STANDALONE
Tailored for Impinj Readers, Datamars custom Standalone Software has been designed specifically for the laundry environment. Discover more.
TARA T-BT 1311 11 mm
HF Transponder (potted).

ORION T-BT 1315 HT 15 mm / 1320 HT 22 mm
HF Transponder, 100% PPS material.
OEKO-TEX® Standard 100 CERTIFIED: discover more.

R-IN1300 MID
Stationary reader (2W, serial & USB port).

R-IN1300 MC
Stationary reader, MC with 9x antenna connector.

A-PO1300 RING
HF Handheld Antenna for identification on hanger.

A-ST1300 CHUTE
HF Multiread Chute Antenna.

A-ST1300 CON
HF Multiread Conveyor Antenna.

A-ST1300 MAT
HF Multiread Mat Antenna.

A-ST1330 TT "Table Top"
HF Multiread Table Top Antenna.

A-ST1330 TTL "Table Top Large"
Large HF Multiread Table Top Antenna.

A-ST1360 TUN "Tunnel"
HF Multiread Tunnel Antenna with conveyor belt and cart, IP66.

A-PO7500 RING
Handheld Antenna for identification on hanger.

A-ST7530 TT CNCS "Table Top"
Table Top Antenna with CNCS.

A-ST7501 CON CNCS
Conveyor Antenna with CNCS.

China: UHF RFID management system in the hospital textile rental service.
Shanghai Jesse, the largest medical textile washing and rental service company in China, that has been using UHF RFID since 2008 in highest grade governmental hospitals. The benefits included the reduction of more than 100,000 textile counting mistakes, the decrease of the relevant costs and strong improvements in the hospital infection control.
Successful implementation of UHF RFID systems in the healthcare textile rental service in Netherlands & U.K.
The Gemert branch of Synergy Health, a leading chain of industrial laundries operating in the healthcare sector in Netherlands and UK., equipped clothing with Datamars UHF tags to develop an unique customized personal laundry concept.
Italy: a pilot project to manage bed linens and workwear within each hospital department thanks to RFID.
The use of RFID technology for bed linens and uniform laundry services has brought significant benefits to hospitals in terms of efficiency and cost reduction, allowing a significant improvement in the quality of services offered.
What can influence RFID read range?
The processes of washing, ironing, folding and sterilization in the Industrial Laundry Environment can influence RFID read range. The following factors can influence the read range of a tag:
- Humidity absorbs magnetic fields,
- Metal reflects and distorts radio signals,
- Neon lights interfere with electromagnetic waves,
- Electrostatic electricity gathered from hangers or conveyor systems interfere and modifies signals,
- Vibrations from machinery alter frequencies and
- Strong power supplies from machines and computers.
What are the differences between multi-read and single-read systems?
The most significant difference between these systems is the direction of the data flow between the reader and the tag.
In single-read systems there is no transmission of data from the reader to the tag, only from the tag to the reader. The tag sends a unique ID code to the reader as soon as the magnetic field is strong enough to power its operation.
In multi-read systems, communication passes continuously between the reader and the tag. The tag will communicate its unique ID code only if queried. This "dialogue" takes time and slows down the effective read rate.
It is possible to limit the system to one query and one answer (depending on the tag) if there is only one tag within the field of the antenna.