Product portfolio
Datamars has a profound understanding of the key issues surrounding textile identification. With years of experience, Datamars has designed the most complete portfolio or RFID-based solutions for every application of textile identification.
LaundryChipTM 401
FT-401-ST / FT-401-PA / FT-401-Pouch.
New disruptive UHF generation transponder: the best bulk-reading performance and endurance in the hashest laundry conditions in a reduced form factor!
Discover more!
Available in 3 versions:
Source Tagging
(sewn),
Patchable
and
in Pouch
.

LaundryChipTM 301
FT-301-ST / FT-301-PA / FT-301-Pouch.
The first multi-read UHF LaundryChipTM developed by Datamars for high-volume bulk-read applications: flexible, round module.
Available in 3 versions: Source Tagging, Patchable and in Pouch.

TrolleyChip
T-TC860C / T-TC900C.
High-performance RFID transponder for tracking of laundry carts, with rugged design for high durability and laser engraved with datamatrix code.
Available in 2 versions: ETSI or FCC.
R-UHF-SR420 / SR220 / SR120
UHF Stationary Reader, available with 1, 2 or 4 ports. Readers are also available with Cloudburst, a software layer developed specifically by Datamars for the laundry needs:
discover more
.

R-PO-UHF-MER
UHF Handheld Reader, Cross Dipole, WLAN, desktop charger.

R-PO-UHF-BT
Portable UHF reading solution with Bluetooth connectivity.

UHF Multi-Channel 4-Port Reader with Antenna
Low profile, high-performance 4-port UHF RFID reader designed for both indoor and outdoor applications.

Integrated UHF Reader and External Antenna
Easy to install, unobtrusive, integrated 2-port UHF reader/antenna designed for office and commercial environments.

USB UHF RFID Reader
w cost platform for developing and deploying interactive read/write applications.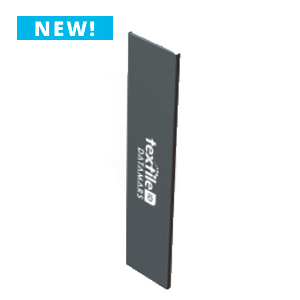 A-UHF-LNG-101
UHF hanging conveyor antenna to precisely identify UHF tagged textiles thanks to an homogenous reading area.

A-UHF-CON-101
UHF Conveyor Antenna, Right-Hand Polarized.

A-UHF-TT-AO-101 / A-UHF-TT-CBO-101
A-UHF-TT-AO-101: UHF Add-On Antenna, TableTop.
A-UHF-TT-CBO-101: LF-UHF Combo Antenna, TableTop.

A-UHF-SLIMQ-FF / A-UHF-SLIMQ-NF
UHF SlimQ Antenna, FF (far field) or NF (near field), well suited for UHF reading textile applications like hanging conveyors, belt conveyors and table tops. Both are available in 2 versions: TILE, without casing, and PANEL, assembled in a plastic case.

S-UHF-PORTAL-PLUS
The UHF Portal Plus has been designed to read carts on the clean side and it can be used in any area were bulk reading is needed without slowing down the textile flow.

S-UHF-TUNNEL-101
The UHF Open Tunnel has been designed to be mounted on any existing laundry conveyor belt and it's the perfect reading system to read clean pack of textiles.

S-UHF-LITECAB-101
Light and dismountable UHF manually operated single door cabinet, suited for space limited applications. Easy & quick to install, Litecab is available in two versions: small and large.
Discover more.

UHF Portal
CLOUDBURST
Tailored for UHF readers and reading systems, Datamars Cloudburst software has been designed specifically for the laundry environment.
Discover more.
See our video tutorial series:
TARA T-BT 1311 11 mm
HF Transponder (potted).

ORION T-BT 1315 HT 15 mm / 1320 HT 22 mm
HF Transponder, 100% PPS material.
OEKO-TEX® Standard 100 CERTIFIED: discover more.
R-IN1300 MID
Stationary reader (2W, serial & USB port).

R-IN1300 MC
Stationary reader, MC with 9x antenna connector.

A-PO1300 RING
HF Handheld Antenna for identification on hanger.

A-ST1300 CHUTE
HF Multiread Chute Antenna.

A-ST1300 CON
HF Multiread Conveyor Antenna.

A-ST1300 MAT
HF Multiread Mat Antenna.

A-ST1330 TT "Table Top"
HF Multiread Table Top Antenna.

A-ST1330 TTL "Table Top Large"
Large HF Multiread Table Top Antenna.

A-ST1360 TUN "Tunnel"
HF Multiread Tunnel Antenna with conveyor belt and cart, IP66.

A-PO7500 RING
Handheld Antenna for identification on hanger.

A-ST7530 TT CNCS "Table Top"
Table Top Antenna with CNCS.

A-ST7501 CON CNCS
Conveyor Antenna with CNCS.